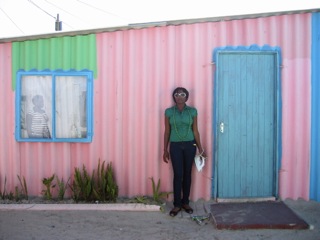 A piece by Lindeka Qampi to be showcased this weekend at Art on the Island

Time flies when you're having fun so what better way to spend a fun filled day – and get some Christmas shopping done at the same time – at the Century City Natural Goods Market on Sunday, 24 November 2013.
Come and celebrate this magical time of year with a glass of organic bubbly or pint of draft while browsing around the great selection of quality products and delicious food, kept cool and safe under Bedouin stretch tents.
'Black South Easter' will be playing live with their original South African soul music as a soundtrack to this outdoor shopping experience. Their original progressive groove mixes the best of local flavours including rock, reggae, soul and dance. With infectious grooves and soaring melodies the band captivates and moves their audience in a typically South African celebration. (www.blacksoutheaster.com) Starting at 11h30
And as for the children, well there are barrels of fun awaiting them too: free train rides throughout the day until 13h00, magic and tricks, a jumping castle and loads of other activities on hand to keep them giddy with joy. International award winning magician and entertainer Matt Gore 'The Ginja Ninja' will delight all with his hour long interactive comedy magic show starting at 10h30. (www.mattgore.co.za)
After a successful launch in October, Art on the Island will continue with its second studio showcase featuring Right Mukore's majestic wood sculptures along with a one-day portrait photography event by Illiso Lanantu. A wine tasting will complement this and delicious snacks will be on sale.
Visitors to Intaka Island can expect a different artist's studio showcase each month, interactive cultural events such as storytelling sessions, portrait photo studios, drumming workshops, sculptures and a variety of high-end craft artists too.
Visitors will also have the opportunity to visit Intaka Island Nature Reserve and may book a boat trip or go on a self-guided tour of the nature reserve.
Opening hours: 12h00 till 17h00
As always, there are healthy gourmet meals, wraps, curries, salads, samoosas, smoked fish, biltong, pies, vegetarian, cheeses, beer, champagne, wine, specialty coffees, tea, cakes, cookies, preserves, olives, freshly baked farm breads, confectionary, jams, freshly squeezed juice and smoothies – we've got it all! Not to mention doggie treats for our canine visitors.
Early birds will get the best Christmas deals, if you are looking for original gifts, there will be stalls selling crafts and clothing at reasonable prices, or you can spoil yourself with fabulous natural body care products and jewelry.
The on-site clubhouse has seating facilities, and offers coffee, tea and a bar.
For the mutt lovers, African Tails will be hosting an adoption day with the cutest brakkies and puppies. Their stunning calendar is also on sale, and makes a wonderful gift.
Summer 2013/2014 market dates:
Sunday 24 November 2013
**Market will be closed on last Sunday in December
Sunday 26 January 2014
Sunday 23 February 2014
Sunday 30 March 2014
Sunday 27 April 2014
Trading Hours: 09h00 - 14h00
Location: Central Park, Park Lane in Century City (follow Intaka Island signs)
There is ample and secure parking.
Directions: If you are coming from Cape Town along the N1, take the Sable road turn off, at the top of the off ramp turn left. Follow the road around the bend into Ratanga Rd. Follow Ratanga Road and at the third set of robots, turn right into Century Boulevard. Go over one speed bump, and you will come to a circle, go around the circle, and exit it right (3 o'clock) into Century Way (follow Intaka Island signs). Once in Century Way take your first left into Park Lane. You will see the Clubhouse on your right.
Contact & Enquiries:
Email: naturalgoodsmarket@gmail.com
Tel/Fax: 021 531 2173