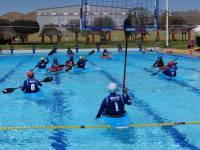 A Western Cape Canoe Polo development team, which practices on the canals at Century City, has just returned from the African Canoe Polo Championships in Namibia where they competed against six major teams.
Sam Braid, chairperson of the Western Cape Canoe Polo Club, said while the development team, which has only being playing for the past three months, had not won any games they had come a long way in a short time and had performed exceptionally well against some of the Continent's top teams.
"They also received coaching from each of the top teams' coaches and are now working hard towards the SA Champs which takes place in March next year."
At the three day Championship event which was held in Windhoek, South Africa qualified for the 2014 Canoe Polo World Championships when they beat Namibia in all three categories they competed in, namely the senior men, women and the Under 21 men's categories.