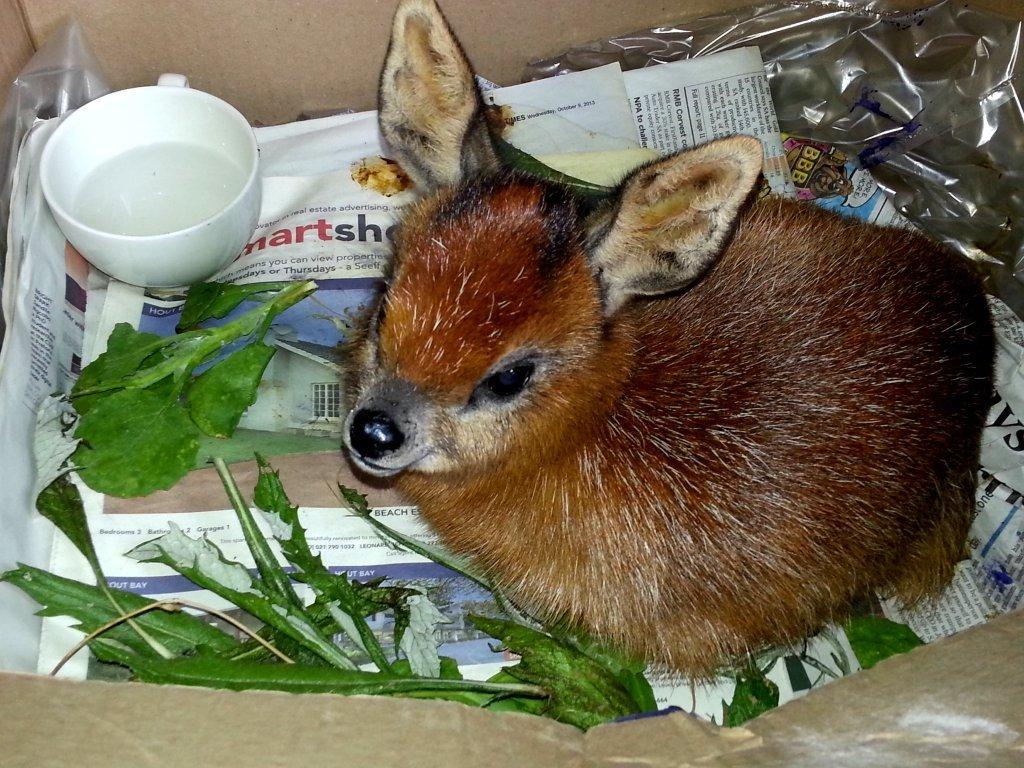 A six month old baby Grysbok, which was injured by a water mongoose on Intaka Island at Century City, is now back with his mother after being nursed back to health by dedicated staff.
Alan Liebenberg, Century City's environmental manager, said visitors to Intaka Island spotted the baby Grysbok being attacked by a water mongoose over the past weekend.
"They managed to frighten off the water mongoose and summoned one of our rangers who carried the Grysbokkie to safety. On examination by the vet it was established that its lame back leg was covered in bites. Thankfully this was only temporarily and the bites were superficial.
"The vet treated the Grysbokkie and we kept it in a box in the Intaka Island Environmental Education Centre with staff administering its antibiotics and feeding it through a syringe and on water and fresh leaves."
Liebenberg said after a few days it was almost fully recovered and it was released back onto the Island.
"It cried for its mother who answered its cry and obviously came to fetch it as we saw two sets of spore close together a short time later."

Liebenberg said this was not the first time a Grysbok had been attacked by a water mongoose on Intaka Island and the size of the water mongoose population on the Island was of growing concern to them.
"They are not only threatening the Grysbok but they have chased away many of our nesting birds as they have been robbing the nests of eggs."
Liebenberg said the Intaka Island Blouvlei Environmental Committee, which oversees the running of Intaka Island, would be meeting with Cape Nature shortly to try and find a solution to the problem.
He added that Grysbok were returned to Century City in 2010, 14 years after they had last been spotted in the area.
"One was a pregnant female, the other a younger male but the first offspring did not survive long."
For further details contact Alan Liebenberg on 021 552 6889.