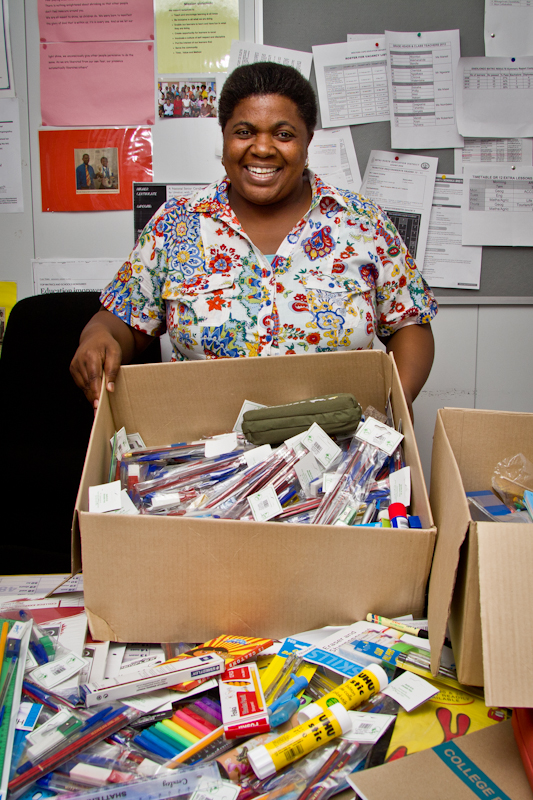 Mrs Khuselwa Nopote, principal of Sinenjongo High School, unpacks the stationery collected at the Century City Carols by Candlelight Service last December.
Generous donations of stationery from hundreds of guests who attended Century City's annual Carols by Candlelight Service in December were delivered to Sinenjongo High School in Joe Slovo Park down the road from Century City this week.
Sinenjongo serves an extremely impoverished community with a high unemployment rate and a delighted principal, Mrs Khuselwa Nopote, said the stationery will be distributed among the most needy of the learners and also used as incentive prizes for hardworking learners. Some of it will also go to learners who lost their homes and all their possessions this week when a fire razed two RDP houses and about 12 backyard shacks adjacent to the school this week.
Sinenjongo was adopted by Century City's developer, the Rabie Property Group, as the major beneficiary of its Corporate Social Investment programme five years ago and has since grown from strength to strength improving its matric pass rate from 27% to around 90% last year and also doubling the number of its matric passes.
The Century City Property Owners' Association, which represents all stakeholders at Century City, has also included Sinenjongo in its community outreach programme with Intaka Island hosting numerous of its learners at Intaka Island, planting trees in the school on Arbor Day and sending field rangers to speak at the school's annual Careers Day.