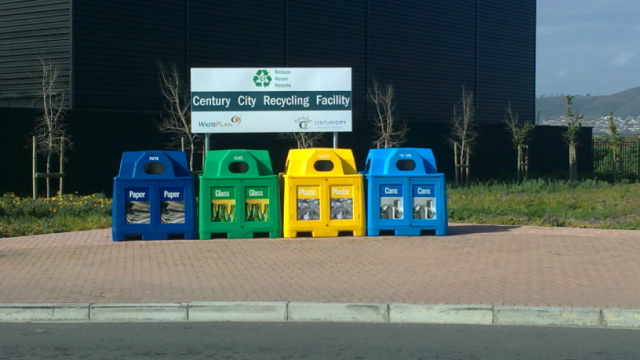 Century City has launched its long awaited Drop Off & Go recycling facility as part of the implementation of its Integrated Waste Management Plan aimed at reducing the precinct's carbon footprint.
The facility houses four separate igloos for glass, tin, paper and plastic respectively enabling the Century City community to drop off and separate their waste for recycling.
Serviced by Waste Plan, Century City's preferred waste service provider, the recycling facility is situated at the Century Avenue Public Transport Interchange. Its launch follows the success of pilot recycling projects at the CCPOA offices and depots and at six buildings in Central Park – the Pavillion, Amazing Vouchers office block, the Dermatology Centre, Teneo House as well as The Clubhouse and the Endeavour Creche.
Alan Liebenberg, Century City's Environmental Manager, said on average over 80% of litter collected by the CCPOA was being recycled and currently just over 60% of Central Park's waste.
As an incentive to these property owners Waste Plan charges just R12 to take away the contents of recyclable bins against R22 for general waste.
Waste Plan is also offering other companies in Century City the same rate as an incentive to join the recycling revolution.
To get involved contact Virgil Brent of Waste Plan on 0861116699 or Alan Liebenberg on 021 5526889.